Transmission/Gear oils
Delo® Syn-Trans XE
SAE 75W-90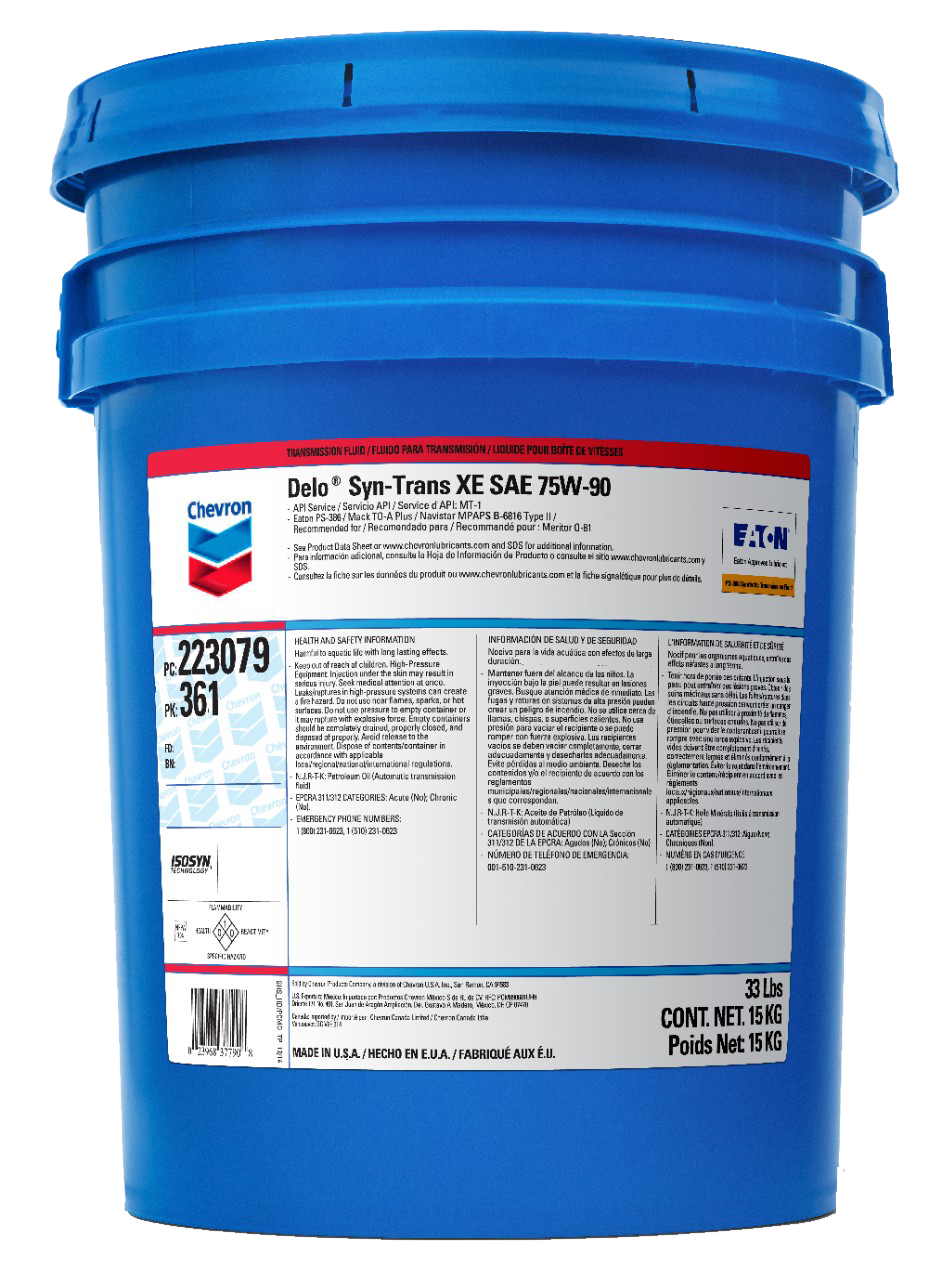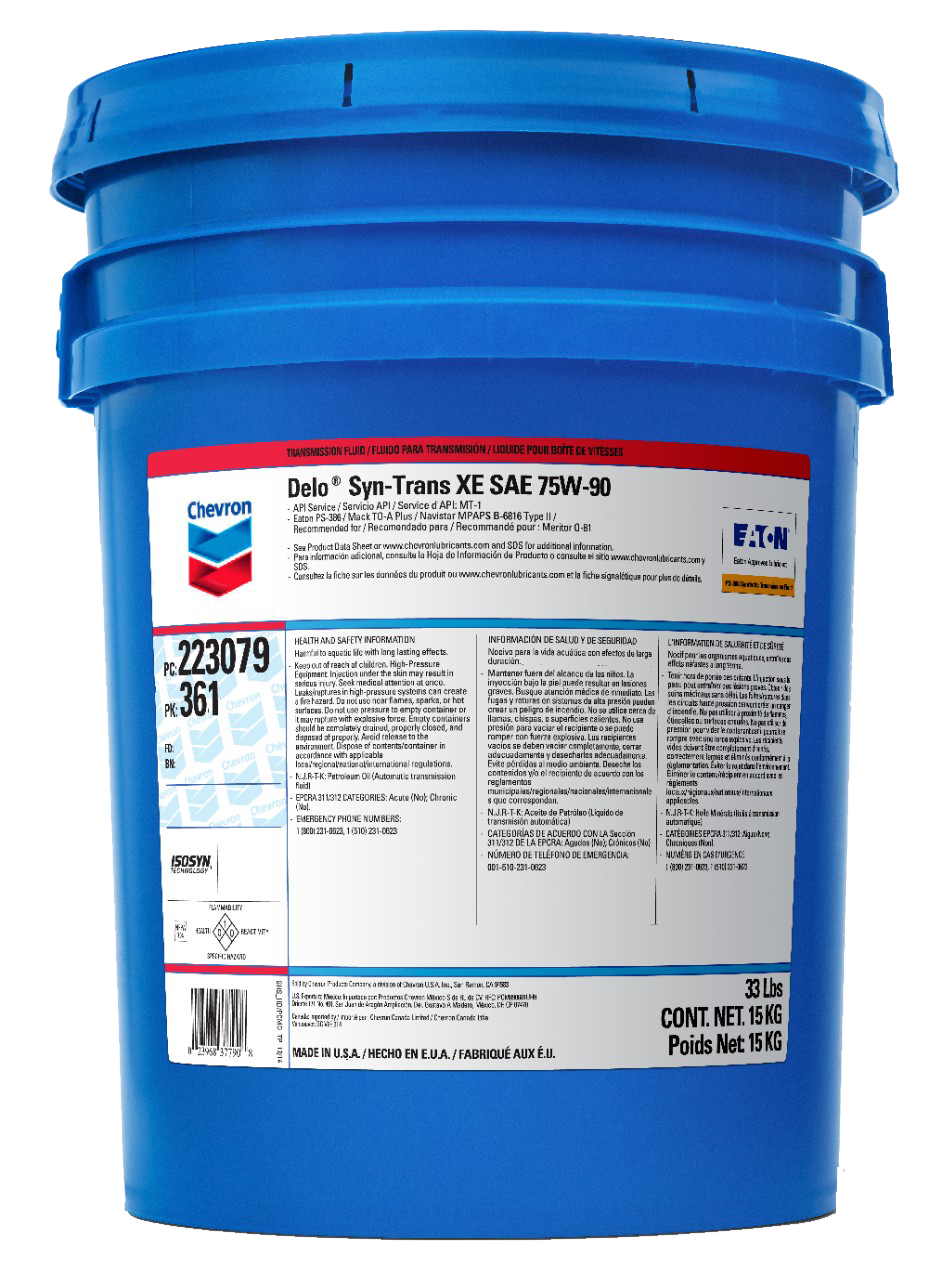 Transmission/Gear oils
Delo® Syn-Trans XE
SAE 75W-90
Delo® Syn-Trans XE is a heavy duty truck synthetic automated manual transmission (AMT) fluid specially formulated for extended drain and severe service operations, and recommended for both factory and service fill of Eaton Ultra Shift Automated Manual Transmissions.
Where to buy ›
Fast facts
Supported equipment types








Delo Syn-Trans XE delivers value through:
Extended drain capabilities
Provides onhighway drain intervals of 500,000 miles in onhighway Eaton medium and heavy duty transmissions, including automated manual transmissions (AMT), and 500,000 miles for older model Eaton Heavy Duty Manual Transmissions. 
Extreme pressure protection
Protects against transmission gear scuffing, pitting and adhesive wear, even at this lower viscosity level, allowing for excellent parts protection. 
Superb thermal and oxidation stability
Formulated for high temperature performance and excellent oxidation resistance to protect against sludge, varnish, lacquer and harmful deposit buildup in critical transmission components. 
High viscosity index and low pour point
Excellent low temperature performance allowing for rapid circulation of the fluid for easier start up and reduced stress on the transmission components.
Wide seal compatibility
Compatible with a wide range of seal elastomers helping to prevent seal deterioration and fluid loss.
Excellent shear stability
Robust viscosity retention, which contributes to system protection throughout the fluid's service life.
Fuel economy performance
Provides up to 2% fuel economy savings, compared to higher viscosity full synthetic SAE 50 transmission lubricants (PS 164, rev 7 type fluids), to help minimize vehicle operating costs.
Warranty plus protection
Bumper-to-bumper warranty protection from the engine to the drivetrain that covers lubricant-related damage to your equipment, including parts and labor.1 Problem resolution and technical advice from Chevron's lubrication experts.
Access to Chevron's lubrication and industry knowledge
Maximizes the bottom line business results of trucking industry professionals.
Delo Syn-Trans XE SAE 75W-90 is recommended for factory and service fill for Eaton heavy duty on-road automated manual transmissions when operating
under severe conditions and in extremely cold or hot environments. It has also been formulated for use in older generation Eaton manual transmissions that
require PS-164, rev 7 performance to allow for consolidated use at truck workshops.

Delo Syn-Trans XE SAE 75W-90 should not be used in axles as it is designed for AMT transmissions and has friction modifiers, which do not work well in axle
lubrication.
Delo Syn-Trans XE SAE 75W-90 meets or exceeds the performance requirements of:

• API Service Category MT-1 Delo Syn-Trans XE SAE 75W-90 is approved for:
• Eaton PS-386
Delo Syn-Trans XE SAE 75W-90 is recommended for use in:

• Eaton PS-164, rev 7
• Mack TO-A PLUS
• Meritor O-81
• Navistar MPAPS B-6816
• Volvo 97305
• ZF Freedomline

Delo® 400 XLE 10W-30 SynBlend
Delo® XLC Antifreeze/Coolant
Delo® Syn-Gear XDM SAE 75W-90
Delo® Syn-Gear XDM SAE 80W-140
To better understand your business needs, we've created this tool to help us find the right product for you.
Keep your equipment running better longer with LubeWatch® routine testing and analysis