On highway heavy duty
Delo® 400 SP 0W-30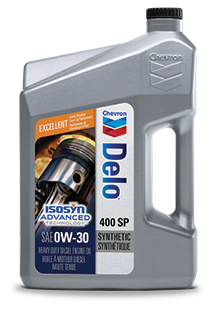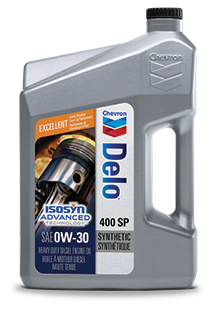 On highway heavy duty
Delo® 400 SP 0W-30
Delo® 400 SP SAE 0W-30 (Synthetic) is a mixed fleet engine oil recommended for naturally aspirated and turbocharged four-stroke diesel engines and fourstroke gasoline engines in which an SAE 0W-30 viscosity grade is recommended for cold weather startup and operation.
Where to buy ›

The risk of excluding routine oil analysis in your fleet PM program

Do you need synthetics everywhere?

Are you optimizing your fleet? Or compromising it?
Many fleets are buying name-brand lubricants that are not necessarily tailored to their specific applications
Fast facts
Supported equipment types







Delo 400 SP heavy duty engine oil delivers value through:
Exceptional Cold Weather Starting
Due to excellent low temperature pumpability
Optimized Oil Cost
Low oil consumption as proven by excellent deposit control on piston crownlands. Outstanding oxidation stability contributes to long oil service life. 
Optimal Operating Costs
Excellent soot dispersancy and wear control contributes to maximizing engine life to overhaul and helps defer the cost of investing in new equipment. Helps keep filters clean, contributing to maximum filter life.
Outstanding Engine Life
The combination of exceptional soot dispersancy and excellent low temperature pumpability helps lead to less wear at startup and during all around operating conditions.
Warranty Plus Protection
Bumper-to-bumper warranty protection from the engine to the drive train. Payment for Chevron lubricant-related damage to your equipment, including parts and labor.* Problem resolution and technical advice from Chevron's lubrication experts.
Access to Chevron's Lubrication and Industry Knowledge
Help maximize your bottom line business results. 
* See Warranty Plus for details and restrictions.
Delo 400 SP SAE 0W-30 is a mixed fleet engine oilrecommended for naturally aspirated and turbochargedfour-stroke diesel engines and four-stroke gasolineengines in which an SAE 0W-30 viscosity grade isrecommended for cold weather start-up and operation.It is formulated with the same technology found inChevron's Delo 400 XSP SAE 5W-40 and Delo 400 XSPSAE 5W-30 products that are licensed against APICK-4.
Delo 400 SP SAE 0W-30 heavy duty engine oil isrecommended for diesel and gasoline engines thatneed API CK-4 / SN performance capability and abilityto operate in subzero arctic environments.