Engine oils
Delo® 400 SNG
15W-40
available as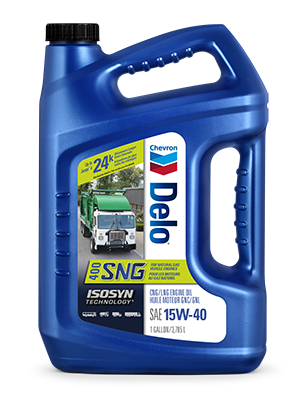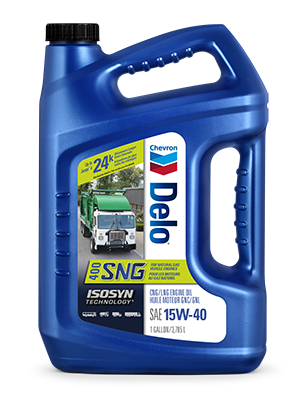 Engine oils
Delo® 400 SNG
15W-40
available as

Delo® 400 SNG SAE 15W-40 with ISOSYN® Advanced Technology is a premium CNG/LNG oil formulated to deliver outstanding protection and long drain performance in a wide variety of compressed natural gas (CNG), liquefied natural gas (LNG) and liquefied petroleum gas (LPG) fueled, spark-ignition mobile engine applications.
Where to buy ›

Certified clean - ensure your lubricants meet OEM cleanliness requirements to help you minimize downtime, reduce maintenance costs and extend equipment life.
Fast facts
Supported equipment types



Key benefits of Delo 400 SNG SAE 15W-40 include:
Alternative Fuel Performance
Delivers great performance for medium and heavy duty vehicles using CNG, LNG or LPG. 
Excellent Engine Cleanliness
 Excellent ratings for sludge control; and valve, or piston deposits in field trials and engine tests.
Superb oil oxidation/nitration control for long oil service intervals
Low Wear Performance
Offers excellent liner and piston ring protection in alternative fuel engines.
Extended Oil Drain Performance
Delivers long drain performance protection despite high stress of CNG combustion. 
Warranty Plus Protection
 Warranty protection provided for CNG/LNG engines using Delo 400 SNG (.1)
Access to Chevron's Lubrication and Industry Knowledge
 Helps maximize your bottom line business results. 
Delo 400 SNG 15W-40 can be used in various applications as follows: 
LNG/CNG Linehaul truck service             
LNG/CNG Delivery truck service
LNG/CNG Waste truck services
LNG/CNG Cement truck services
LNG/CNG Oil field truck servicing
CNG Municipal bus service
Light Duty CNG pick-up trucks
HDAX® 5100 Ashless Gas Engine Oil
Delo® XLC Antifreeze/Coolant
Delo® ELC Antifreeze/Coolant
To better understand your business needs, we've created this tool to help us find the right product for you.
Delo means efficiency. Fuel economy without sacrificing engine protection. Save money, and lower GHG emissions