Coolants & antifreezes
Havoline® Conventional Antifreeze/Coolant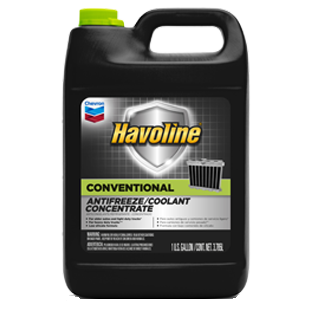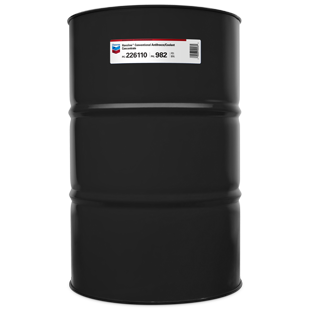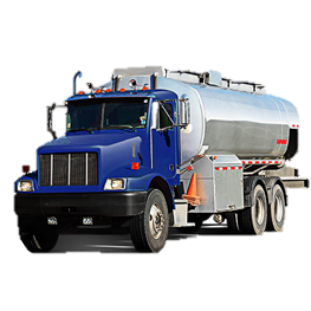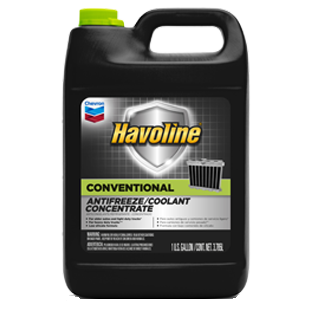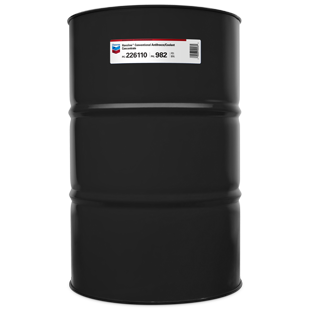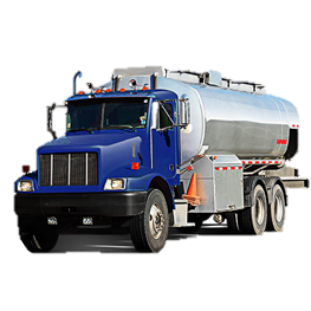 Coolants & antifreezes
Havoline® Conventional Antifreeze/Coolant
A low-silicate, all-purpose formula designed for use in both automotive and heavy-duty diesel engines. Provides maximum protection in cold temperatures and reduces boil-overs in hot temperatures.
Where to buy ›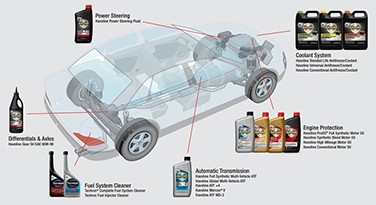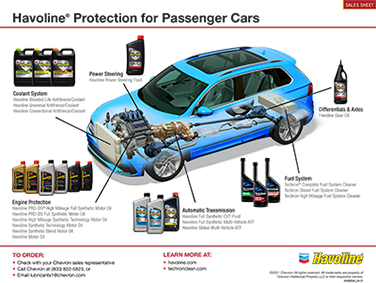 They are low silicate coolants designed for use in both heavy-duty diesel and automotive engines, particularly those containing aluminum alloys.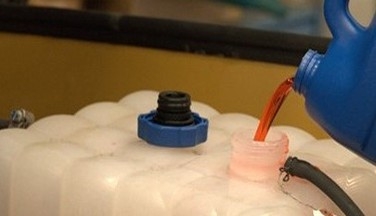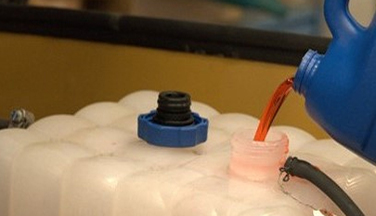 A coolant, or "antifreeze", as referred to by the vast majority of consumers, serves a couple of relatively simple purposes in automotive and industrial applications.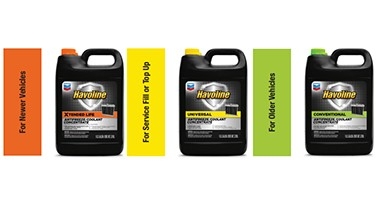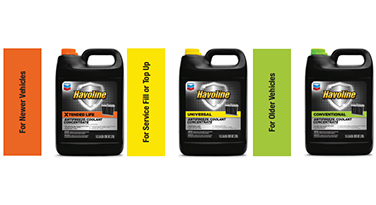 Learn which Havoline Antifreeze/Coolant is right for your vehicle.
Fast facts
Supported equipment types








Wide Service Application
These silicate containing products can be used in a wide variety of automotive vehicles where a low silicate product is required. It can also be used in heavy-duty engines when SCA's are added. These products are also suitable for use in industrial internal combustion engines where an antifreeze/coolant is required to provide protection against freezing, boil-over, and corrosion.
Service Life
2 years or 50,000 miles (80,500 km) in automotive service or up to 250,000 miles (400,000 km) in heavy duty service when supplemental coolant additives are used and correct top up practices are followed.
Protection
Provides excellent protection to automotive cooling system components including aluminum.
Wide temperature application
Protects against winter freeze up and minimizes the chances of summer boil-over.
Antifoam properties
Excellent antifoam package minimizes foaming potential.
Recommended applications for Havoline Conventional Antifreeze/Coolant products:

• Automobiles requiring a non-extended life, silicate containing coolant meeting ASTM D3306.
• Heavy duty cooling systems requiring a nonextended life, low silicate coolant that is compatible with supplemental coolant additives.
• Industrial cooling systems, recreational equipment and compressors where a low silicate, non-extended life formulation is recommended.
Personal/Recreational vehicles
Havoline® Xtended Life Antifreeze/Coolant 
Personal/Recreational vehicles
Havoline® Universal Antifreeze/Coolant
Personal/Recreational vehicles
Havoline® PRO-DS® Full Synthetic Motor Oil
Personal/Recreational vehicles
Havoline® High Mileage Synthetic Technology Motor Oil
Personal/Recreational vehicles
Havoline® Full Synthetic Multi-Vehicle ATF
Personal/Recreational vehicles
Havoline® Global Multi-Vehicle ATF
We've got you covered with a full line of lubricants, transmission fluids, gear oils, greases, hydraulic oils and coolants
Experience behind the wheel goes a long way. So does getting basic tips on driving and car maintenance.
Becoming an authorized Havoline installer. The expertise customers expect when they ask for us by name.