Hydraulic oils, Industrial oils
Clarity® Synthetic Hydraulic Oil AW
ISO 32, 46, 68
available as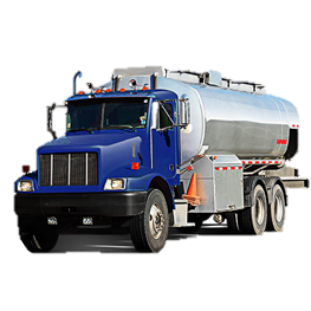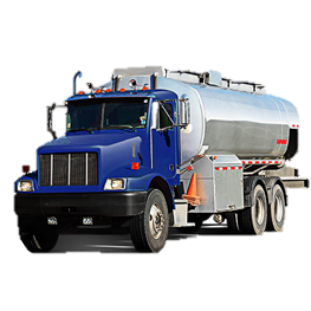 Hydraulic oils, Industrial oils
Clarity® Synthetic Hydraulic Oil AW
ISO 32, 46, 68
available as

Ashless Synthetic hydraulic oils for industrial applications in environmentally sensitive areas. These are high viscosity index fluids that provide a wide operating temperature range.
Where to buy ›

Certified clean - ensure your lubricants meet OEM cleanliness requirements to help you minimize downtime, reduce maintenance costs and extend equipment life.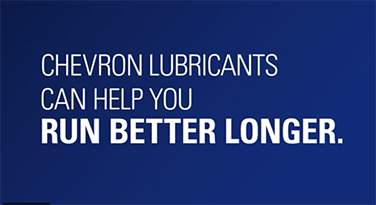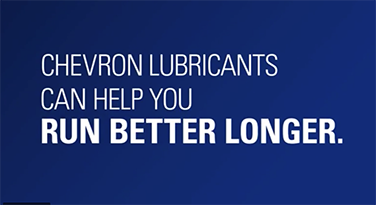 Dr Nathan Knotts explains how equipment using Clarity Synthetic Hydraulic Oil experienced 4.5% greater fuel economy, 6.5% productivity increase and more than two times the oil life over the traditional monograde fluid.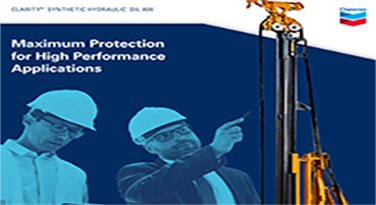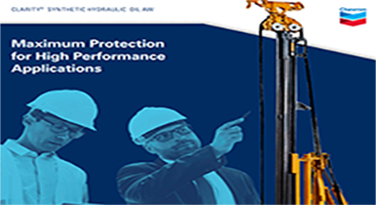 Features, benefits, applications and environmental impact criteria of Clarity Hydraulic Oil AW.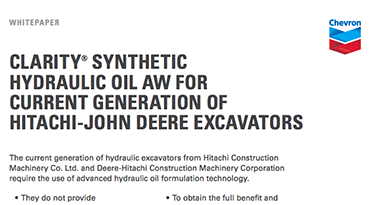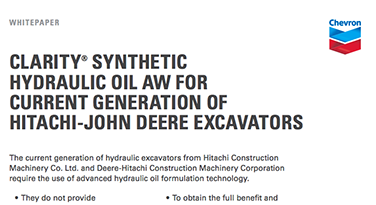 See how Clarity Synthetic Hydraulic Oils AW have similar or better performance properties as compared to the published Hitachi Construction Machinery Co. Ltd and Deere-Hitachi Construction Machinery Corp factory fill oils.

Fast facts
Supported equipment types















Hydraulic system efficiency
High performance formula improves hydraulic response time, increases operating temperature range and can improve production, as well as the potential for lowering energy cost.

Premium performance
Ashless formulation provides excellent wear protection, rust and corrosion protection, hydrolytic stability, water separability, foam inhibition, and filterability.
Long oil life
Outstanding ability of the synthetic base stock to withstand oxidation at high operating temperatures results in maximum service life for the oil.
Low toxicity
Inherently biodegradable2 and has very low acute aquatic toxicity2 to both fish and invertebrates based on tests of water accommodated fractions. Ashless formulation facilitates conventional recycling programs.

Excellent wear protection at startup
Minimum change in viscosity over wide operating temperatures due to high viscosity index. Multiviscosity performance minimizes the need to change viscosity grades for seasonal changes.
Excellent low temperature pumpability
Specifically developed to ensure good low temperature fluidity for low temperature operations as low as -40°C (-40°F) for ISO 32 grade, and -30°C (-22°F) for ISO 46 and 68 grades.
Zinc-free/Ashless
Suited for applications involving yellow metals found in axial piston pumps.
Clarity Synthetic Hydraulic Oils AW are designed for use in mobile and stationary hydraulic vane-, piston-, and gear-type pumps. The antiwear performance of Clarity Synthetic Hydraulic Oils AW make them especially suited for high performance industrial applications utilizing axial piston pumps where pressures may exceed 5000 psi.
Clarity Synthetic Hydraulic Oils AW are well suited for applications suited in environmentally-sensitive areas. They have a viscosity index much higher than typical conventional antiwear hydraulic oils, provide excellent low temperature pumpability and better wear protection at high operating temperatures (refer to Typical Test Data table).

Delo® ELC PG Antifreeze/Coolant
Clarity® Synthetic EA Hydraulic Oil
HDAX® 6500 LFG Gas Engine Oil
Clarity® Hydraulic Oil AW
We've got you covered with a full line of lubricants, transmission fluids, gear oils, greases, hydraulic oils and coolants
Keep your equipment running better longer with LubeWatch® routine testing and analysis
Ensure your lubricants meet OEM cleanliness requirements to help minimize downtime, reduce maintenance costs, and extend equipment life.
Learn how you can improve your operation's reliability with an on-site lubrication assessment.