Setting Up Lubrication Programs for Success
Starting clean and proper analysis are pivotal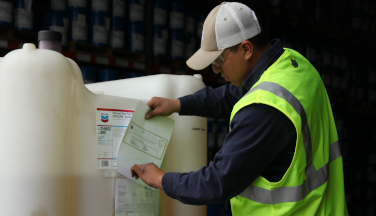 The basic concept of lubrication is simple and easily understood – by reducing friction, dissipating heat, and conveying contaminants away from parts, the right lubrication allows equipment to deliver greater performance and longer service life.
Most organizations grasp the importance of using the correct lubricant, at the correct service interval, with the correct cleanliness. However, in the absence of standards, benchmarks, and relative data, decisions related to those factors are guesswork at best. Without agreed-upon measures and practices, the data used to make decisions can be manipulated, interpreted, and filtered by personal prejudices and the wrong kinds of objectives.
Choosing the Right Standards and Benchmarks
As noted, effective decision-making begins with the right data and evaluating that data using industry standards and benchmarks. Working with those standard and benchmarks allows decisions to be made with more objective criteria.
For example, when it comes to lubrication for industrial equipment, the best tool for monitoring lubricant viscosity, performance, and cleanliness is regular fluid analysis in which both stored and in-service lubricants are sampled and tested regularly.
Best Practices for Lubricant Cleanliness
Lubricant cleanliness is a critical factor, as contamination is widely recognized as the leading cause of lubricant-related equipment failure. An effective lubricant cleanliness program can be broken into three easy-to-remember components: Start Clean, Monitor, and Stay Clean. In simple terms, Start Clean addresses planning the program and choosing lubricants that meet the cleanliness specifications established by equipment manufacturers. The Monitor component addresses the steps taken to verify that cleanliness specifications are being maintained, for example through a fluid analysis program. Finally, the Keep Clean element addresses the optimal procedures for storing and handling lubricants. We'll explore each of these in order.
Start Clean
Starting clean begins by selecting lubricants that meet your equipment's requirements for viscosity, performance, and cleanliness. It then involves obtaining a baseline assessment of the cleanliness of the new oil in your operations by pulling samples from your bulk oil storage and having them analyzed by an oil analysis laboratory. That analysis should include an ISO 4406:2021 particle count measurement to compare against the recommended cleanliness level.  Also, consider pulling a patch test to see the difference between typical new fluid cleanliness vs. the target or OEM Specification trying to be achieved. Many new fluids struggle to meet tight cleanliness specifications.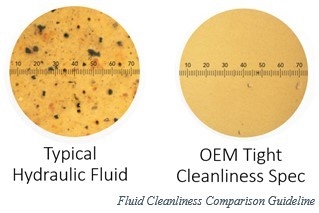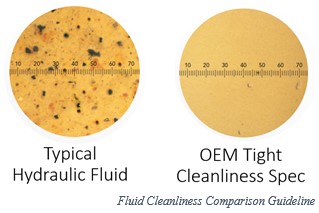 This step also involves reviewing your lubrication practices, particularly the process through which lubricants are transferred to identify opportunities for contamination ingression. Thus, many times that means using breathers to manage the flow of air into and out of your tanks and replacing storage caps to ensure airflow is driven through the breather. You also need to be certain your tanks are free of rust and other potential contaminants.

Monitor
To manage lubricant contamination levels as well as component wear, regular lubricant analysis and condition monitoring are needed. Arrange for lubrication analysis on critical in-service equipment at least monthly to measure particle counts against the baseline established. The analysis should examine additives, metals, viscosity, and evidence of oxidation or moisture. Performing analysis on new lubricant storage at least semi-annually will allow you to compare particle counts to your baseline. In equipment and applications where moisture can be a challenge, test for the presence of water contamination. Similarly, if your operations create conditions for varnish formation, you should test for the amount of varnish.
The key to any lubricant analysis and condition monitoring program is maintaining consistency because trending the data and making decisions on these trends is very important.
Stay Clean
Once you have determined your corrective action limits, establish plans for what you'll do if those limits are exceeded. For example, if analysis reveals a higher-than-acceptable level of particles in a reservoir, you may want to clean the in-service lubricant using a kidney loop filtration system. Or, if water levels are too high, you may need to employ a Vacuum Dehydration Oil Purification (VDOP) system.
You can work with your Chevron Lubrication Marketer (LM) to determine the best course of action to take based upon the contaminants present within equipment. It's a wise idea to involve your LM in developing your lubricant cleanliness system because they'll be able to bring expertise which prevents any oversights, and they'll be able to recommend trusted vendors for services you may need. Remember, lubricants have been designed by professional chemists and lubrication engineers and there is a precise balance to ensure equipment protection is achieved.
Interested in seeing just how clean your new oil is?
Chevron is currently offering a free oil sampling kit. We'll send you a postage-paid test kit. Simply draw a sample of your new oil and return it to us. We'll analyze it and mail the results back to you. There's no cost or obligation, so request your free test kit today!