Managing Change for Turbine Engine Oils
We're here to help the process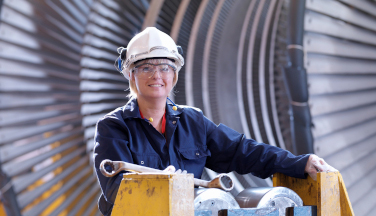 Most of our industrial lubricant customers are likely to have a management of change (MOC) policy and process for reviewing and approving any changes to operations or equipment. These policies are intended to ensure that a change in operational practices will not compromise worker safety, legal and regulatory compliance, or environmental standards. In Chevron's experience, we have seen MOC policies applied to changes in the lubricants used in critical equipment such as turbine engines, even if the change is simply to a new formulation of the existing brand being used.
In an earlier Lube Matters article, we introduced the VARTECH™ Solution for mitigating the impact of varnish buildup in a turbine engine's oil system. To recap, this solution consists of two steps: removing varnish and sludge with our VARTECH Industrial System Cleaner (ISC), then filling the oil system with our new GST Advantage™ EP or RO turbine engine oil. These latest additions to our GST line are formulated with our proprietary VARTECH technology, which inhibits the formation of varnish precursors in the oil, thereby minimizing varnish buildup for an extended period of time.
Our product and technology experts have undertaken exhaustive testing to ensure that our new GST Advantage oils are compatible with the previous generation of GST turbine oils. We are also confident that migrating to GST Advantage, whether from an existing GST turbine oil or any other brand, will bring significant long-term benefits by dramatically reducing the risk of equipment damage from varnish buildup. Put more simply, it is a change for the better.
Nonetheless, in recommending the VARTECH Solution, we recognize that the decision to replace a turbine engine oil type may be subject to a MOC review. We are working closely with customers considering this change to facilitate the MOC process. If you have have been using GST oils for some time, our testing and research indicate that GST Advantage should meet the  "Replacement in Kind" or RIK standard, meaning that it meets all the specifications of the oil being replaced. For those contemplating a switch from another brand, we are ready to provide all the data you need to ensure a thorough MOC review and make an objective, informed decision.
Varnish is a big problem. At best, it requires more aggressive maintenance, and in the worst case, it can lead to costly repairs or even replacement of expensive turbine engines. We spent years developing the VARTECH Solution to mitigate both these factors, helping to extend oil life between scheduled maintenance intervals and enabling operators to stay ahead of varnish buildup. We are confident the process of changing to the VARTECH Solution with GST Advantage will prove to be well worth it when customers realize these benefits.